Forest Department Allows Chaos, Obstructing Sunder's Move
Veterinary reports from yesterday detail how the Maharashtra Forest Department has failed to adhere to guidelines provided by experts skilled in elephant removal and has, despite repeated appeals by PETA, failed to create an environment that would allow the young elephant, Sunder, to feel calm and confident enough to be walked onto the truck that's waiting to take him to his new home in Bangalore. The Forest Department has barred PETA representatives from the site, permitted persons intent on keeping the much-abused elephant Sunder where he is to gather, shouting and screaming and agitating Sunder on Member of the Legislative Assembly Vinay Kore's property in Kolhapur, in an attempt to thwart a Supreme Court order for his removal and rescue. The veterinary reports show how the Forest Department has failed to control the gathering of a large crowd shouting, blowing whistles and attempting to frighten and confuse Sunder so that he won't be able to enter the truck. It also details how the Forest Department permitted Sunder's abusive mahout and his mother to shout conflicting, confusing commands at Sunder and to pull hard on his ears and upset him. Although veterinarians and a team experienced with moving elephants is present in Kolhapur, these experts have not been permitted to carry out Sunder's move. PETA representatives have not been allowed to be near Sunder or to assist on site. A person who went to deliver fruits for Sunder was beaten up in the presence of Forest Department officials, as he was thought to be a PETA representative. The Forest Department has also failed to ensure adequate police presence in order to remove the obstructive crowd.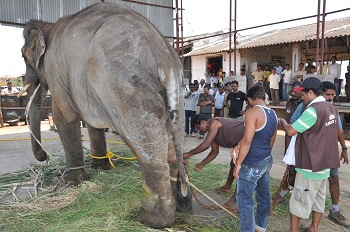 Veterinary experts recommended a quiet environment and put fruits on the truck in order to entice Sunder onto it. They also recommended that Sunder be guided by a mahout who will give the right commands rather than by the mahout whom Sunder fears and who yells at him, hits him and issues false commands. However, the Forest Department has failed to meet these and other basic objectives, thereby preventing the move and allowing Sunder to be deliberately confused and agitated. Now, further delaying the process, which has already been obstructed for three days, the Forest Department claims that it needs approval from the Principal Chief Conservator of Forests (Wildlife) to allow Sunder to be moved according to the protocols which are being recommended by the veterinary experts who have travelled especially to Kolhapur to supervise Sunder's move. The Jyotiba temple came into possession of Sunder in 2007, but after cruelty such as the use of spiked chains and beatings came to light, the Maharashtra Ministry of Forests (on August 21, 2012) and the Project Elephant division of the Ministry of Environment and Forests (on November 9, 2012) issued orders for Sunder's rescue. However, they were never carried out, and Sunder was then spirited away at the behest of Kore and hidden in an old poultry shed, where he continued to be beaten and was so heavily chained that he recently sustained a serious injury on his leg. In May, the Supreme Court of India passed a judgment in favour of PETA India by ordering the implementation of a 7 April 2014 Bombay High Court order to release Sunder to an elephant-care centre in Bangalore by no later than June 15th. If you wish to help, please urge Maharashtra forest officials to create a calm environment in which professionals can work to move Sunder:
The Honourable MK Rao
Chief Conservator of Forests
Office of the Chief Conservator of Forests (Territorial) Kolhapur
Van Vardhan Bldg
Opposite Principal Post Office
Ambedkar Chowk, Tarabai Chowk
Kolhapur 416 003
ccftkolhapur@gmail.com
The Honourable Suresh A Thorat
Additional Principal Chief Conservator Forests (Wildlife West)
Borivali
LT Road
Near Old MHB Bus Stop, Forest Quarter
Borivali (W) 400 091
Mumbai
ccfwlmumbai@rediffmail.com
The Honourable Sarjan Bhagat, IFS
Principal Chief Conservator of Forests (Wildlife)
Van Bhavan
Ramgiri Road
Civil Lines
Nagpur 440 001
Maharashtra
pccfwlngp@mahaforest.gov.in
Crossposted from petaindia.com.