Putting pressure on Sunder's captors
There is some great news to report about Sunder, the young elephant we are trying to rescue from the Jyotiba Temple. Recently, we received the order from Indian officials that we've long been hoping for and fighting for stating that Sunder must be transferred to a wildlife rescue-and-rehabilitation center near Bangalore. This is a wonderful step, and we are collectively holding our breath in anticipation that the move will actually take place.
This change is a result of the worldwide advocacy campaign that we launched in order to free Sunder. Normally, we try to develop a cooperative relationship with temple trustees without involving the public, but the officials at this temple are so stubborn that we had no choice but to pull out all the stops.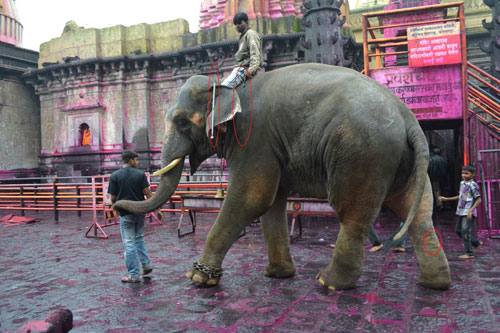 In this photo, Sunder's mahout (handler) is riding him and holding a rod to beat him with. Suspended from Sunder's ear is the diabolical ankus (also known as a "bullhook"), which has a spike on the tip along with a sharp hook. Sunder cannot move without being reminded of the pain that can be inflicted by this implement.
Here is the mahout's assistant striking Sunder with this hideous weapon.
In our efforts to free Sunder from the living hell that he has endured for the past six of his 13 years, we lined up a sanctuary to which he can be relocated, and an action alert was posted online asking people to e-mail the Maharashtra forest minister as well as the man who donated Sunder to the temple and urge them to release Sunder to a sanctuary.
We also enlisted the help of international superstars Paul McCartney and Pamela Anderson. Their pleas on PETA's behalf for Sunder's release made headlines all over the world—including in the London Daily Mail, The Sun, and The Times of India—putting more pressure on Sunder's captors by making them feel the heat of the international media spotlight.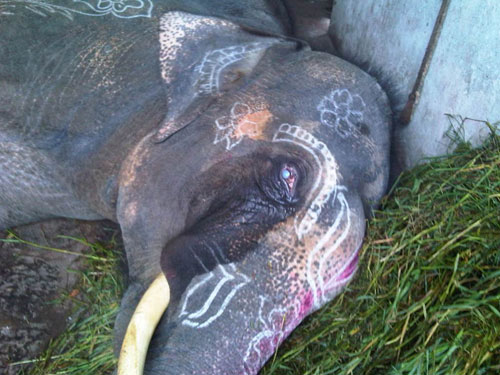 If young Sunder is moved, he will finally be out of the clutches of the cruel mahout who injured his eye and covered his body with bruises and of the temple authorities who keep him chained and isolated. I will, of course, keep you updated as the case progresses.