India to Stop Elephant Use by Circuses
Following a nine-month-long investigation of circuses across India that was conducted by a team that included representatives from PETA India and Animal Rahat and was authorised by the Animal Welfare Board of India (AWBI) – a statutory body operating under the Ministry of Environment and Forests – the AWBI has confirmed in the just-released meeting minutes of the 39th general meeting of the AWBI held in Chennai that the board has "decided to stop registration of elephants for performance under [the] Performing Animals Rules in view of huge cruelties and abuse suffered by them".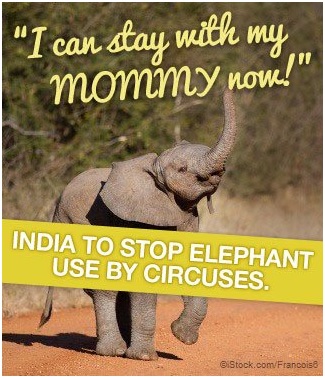 The notes further indicate the AWBI's support for a ban on the use of all animals in circuses and state that the board "decided to stop immediate performance of all the injured and aged animals in the circuses mentioned in [PETA India's] report and seize them after making arrangement for rehabilitation" and that legal notices will be served to circuses "for using sick, injured and unregistered animals in their circuses as Performing Animals". The AWBI also stated that Animal Rahat and PETA India's findings will be forwarded to the Central Zoo Authority for further action.
You can support Animal Rahat's advocacy efforts on behalf of all animals by making a donation today!