Reforms May Mean Relief for 36,000 Bullocks
Here are a few bits of news so that you can see some of the animals Animal Rahat has helped this month. The photos really tell the story: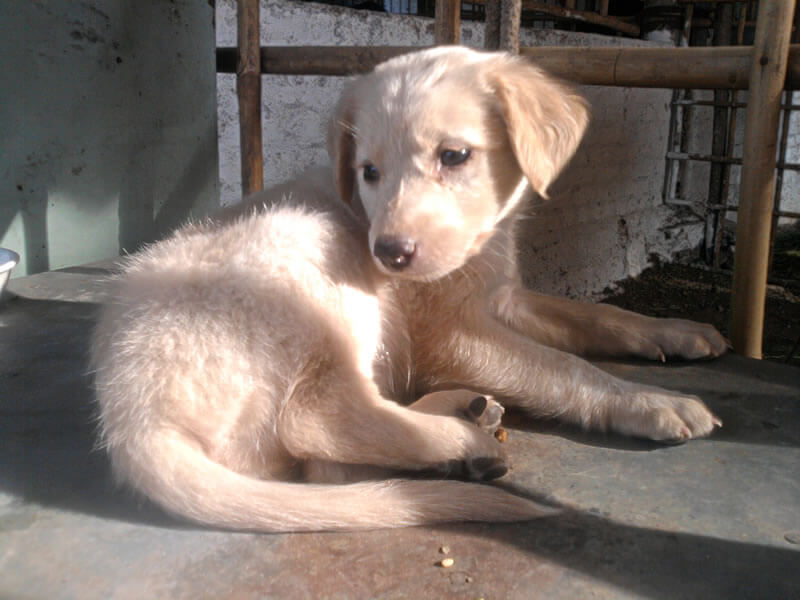 This puppy was rescued by an Animal Rahat staffer who saw a crowd of people looking into a well. Thirty feet below was this young pup crying out for help. After procuring a thick rope, the staffer carefully lowered himself into the well and retrieved the puppy. She is now at the Animal Rahat sanctuary and has made fast friends with everyone there.
During routine scouting, an Animal Rahat staffer discovered this fox cub chained up on a farmer's property. The farmer had caught the fox in his sugarcane fields. The Animal Rahat staffer explained that chaining the cub was illegal and confiscated the animal. The cub is now in a zoo, being evaluated to see if the animal is old enough to be released.
The Animal Rahat team continues to make major progress with sugar factories to alleviate the suffering of overworked bullocks who haul heavy carts piled high with sugarcane (and families). As you may recall, last month I told you that at Animal Rahat's urging, the Sangli district collector (the most powerful government official in the district) issued an order to sugarcane mills to implement practices that protect working animals.
Animal Rahat has now persuaded the owners of all five sugar factories in Pandharpur to sign a memorandum of understanding (MOU) that spells out needed reforms—for example, making shade, water, and emergency veterinary care available to animals and barring owners from tormenting animals with cruel implements, such as sharp wires and metal rods with protruding nails that are jabbed into an animal's neck.
This initiative is of paramount importance and could improve the lives of nearly 36,000 bullocks. Even after several factory owners signed the MOU, some still hesitated. But the Animal Rahat team figured out how to convince those who were reluctant. After one factory owner refused to sign the agreement, Animal Rahat called Zee TV and suggested that it might want to do a story on the sugarcane factory's refusal to sign the MOU. Zee TV then called the factory. Bingo! Animal Rahat immediately received a call from the factory owner, and the MOU has now been signed by officials from all five factories!
To give you an idea of how much Animal Rahat accomplishes for animals in just a matter of hours, here are a few issues that veterinarians encountered on their return from a meeting at a sugarcane factory: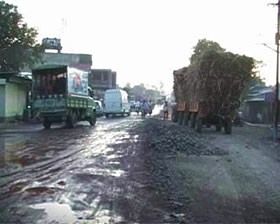 A group of journalists was taking photos for a story on how environmental issues would factor into the upcoming municipal elections. One of the Animal Rahat vets stopped to talk to them and pointed out the horrible condition of the road. He urged them to use their story to highlight how the poor state of the region's roads causes immense suffering to the bullocks who are injured by slipping and stumbling while pulling impossibly heavy carts through the muddy ruts.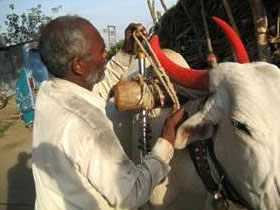 That same day, a staffer confiscated seven yoke spikes and four whips by stopping cart drivers along the road and explaining that these torturous devices are against the law.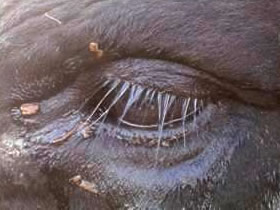 After spotting the telltale seeds and anguished tears around this bullock's eyes, an Animal Rahat vet stopped the cart driver and made him carefully flush out the animal's eyes with clean water. Believe it or not, it is common for owners to rub tobacco into the eyes of bullocks who are on the brink of exhaustion in order to keep them moving! Just think how much more pain this bullock would have had to endure had it not been for Animal Rahat!
To end on a happy note, here are some of Animal Rahat's newest retirees: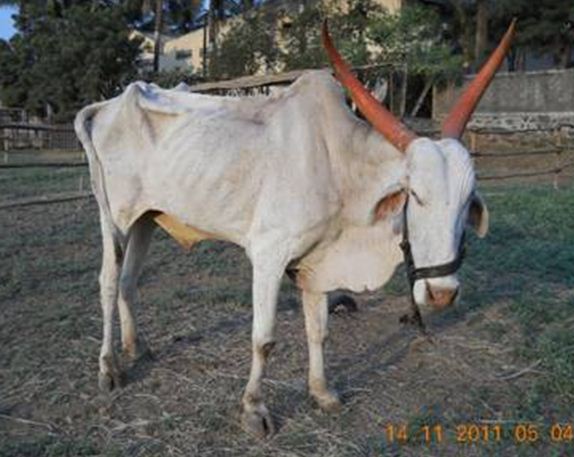 Motiya is 25 years old. Unfortunately, he was being gravely neglected by his owner and was covered with ticks. In order to spare him further suffering, the Animal Rahat team convinced his owner to retire him so that he can live out his days in peace at the sanctuary. He is now growing healthier every day.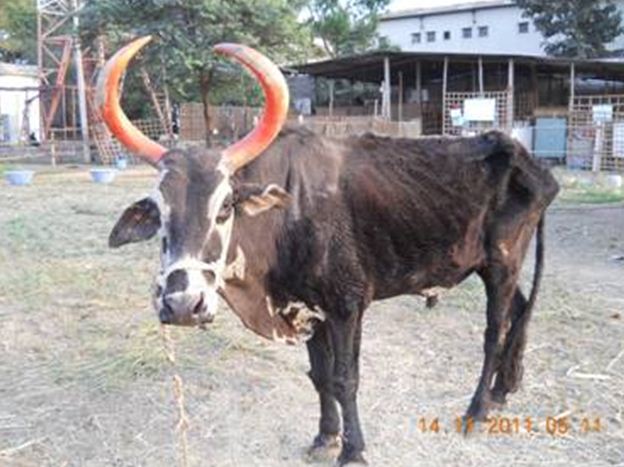 This 18-year-old bullock is Abdul. His owner recently underwent back surgery and couldn't provide the animal with the care that he needed, so Animal Rahat agreed to take the bull in. As you can see from his protruding ribs, Abdul has not received proper nutrition in a long time—but he can now eat to his heart's content!
Before the services of Animal Rahat were available, Abdul may have been condemned to months of wasting away or would have been sold for meat and would have faced a terrifying death in a slaughterhouse. Animal Rahat depends on your support so very much, and the team is glad that you are a part of this effective program! Thanks to generous and caring people like you, Abdul—and hundreds of animals every week—are receiving desperately needed, and often lifesaving, care. Thank you so much for your compassion!
TAGS:
Bullocks
,
Dogs
,
Simone's Place