Shutting down bullfights
Animal Rahat saved more than 100 buffaloes from violence and injuries in bullfights last month.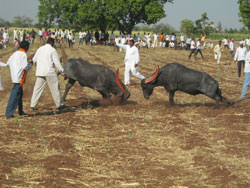 As seen in the photo, two bulls are brought together and surrounded by a ring of spectators. The bulls' horns are sharpened to ensure that every charge will produce bloody gashes and deep puncture wounds in the other animal's flesh. The round ends when one of the bulls either is killed or manages to flee, even if badly injured. The survivors of each round fight each other while spectators bet on the outcome. The "winner" is the last bull left alive—but by then, his injuries are often so severe that he is typically sent to slaughter.
These events are illegal but still take place, often with the tacit approval of local authorities. When Animal Rahat learned that plans were in the works for fights to be held in three local villages, it was able to shut them down in advance by threatening to have the police arrest the organizers.