Sunder update: The temple is fighting the order and hiding Sunder
As you know, we have been working hard to free Sunder, a young elephant kept chained and isolated by the Jyotiba Temple and beaten by his ruthless mahout. Last month, we had a breakthrough when worldwide campaigning by our international affiliates resulted in an order from the forest minister to transfer Sunder to an approved holding place.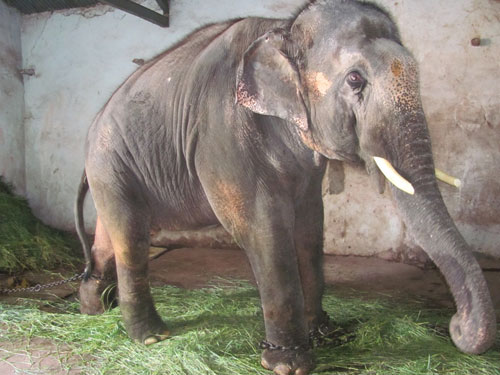 Unfortunately, the latest news is extremely worrisome. The temple is fighting the order and is hiding Sunder in order to keep the news cameras away. We heard from a few journalists that he was being hidden at a dairy plant, but when the Rahat team checked, there was no trace of him. Further inquiries revealed that Sunder was in a factory behind the dairy, but security guards would not let the Rahat team inside nor would they answer any questions. We are still doing everything possible to rescue this long-suffering elephant and will not give up until he is free. We recently held a news conference and a public demonstration in support of his retirement, and we are preparing for a possible court case. Please cross your fingers. I will, of course, keep you posted.