Changing Minds, Changing Practices
Animal Rahat is a nonprofit organization that was created to make a difference in the lives of working bullocks, donkeys, ponies, horses, and other animals.
Animal Rahat is set up in the sugar-mill district of Sangli, India, and in the neighboring town of Solapur, where staff members provide free aid to bullocks who work in sugar mills, donkeys who are used in the brick kilns, horses who pull carts, and other working animals. Animal Rahat aims to alleviate the suffering of these animals by giving rest to the lame and offering relief to the sick and injured. The group's work also benefits the animals' owners, who are often too poor to afford the sustenance necessary to maintain animals' health and strength, pay for veterinary care in times of illness and injury, or give their animals time for rest and recuperation.
Teaching Proper Care and Nutrition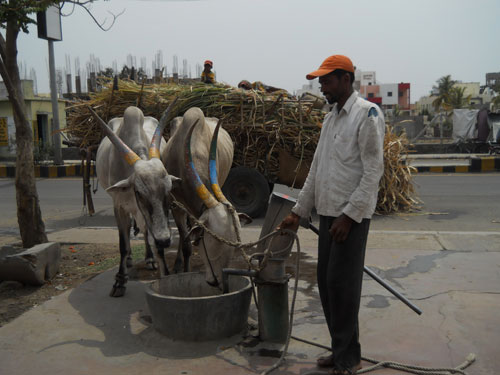 In just one year, the Animal Rahat camp, which was started in the Sangli market yard with the blessing of a local government official, spread to an area of 60 square kilometers (which includes Miraj, Madhavnagar, Kupwad, and Sangli). Many thousands of working animals gather there, including some 2,000 at one sugarcane mill alone. In and around Miraj and Sangli, the group has installed concrete water tanks to provide water to thirsty, often overheated working animals; sand pits to prevent shoulder injuries when farriers push animals over to shoe them; and shelter to afford animals shade from the burning sun. Other activities include educating cattle owners about the basic needs of working animals —including proper food, vital supplements, shade, adequate rest periods, and clean and sufficient water—as well as health management, balancing carts to avoid injury, loading carts properly (not overloading them), and maintaining proper harnesses to avoid wounds. The group has also conducted vaccination camps for foot-and-mouth disease, inoculating thousands of animals against this dreaded ailment. 

Animal Rahat has also stopped cruel bullock races, enlisted the help of local police stations in averting cruel acts of violence, and confiscated countless whips, nose ropes, barbed wire goads, horn paring equipment, and other cruel devices used to add misery to working animals' lives. At festivals and fairs, which involve ponies and bullocks being run at speed for two days or more with little rest, staff members provide rest stations, water troughs, and vitamins and minerals for cart drivers to administer to their exhausted animals. We have also established rest stops for many animals who are sick or cannot keep going.
Most of the first-aid treatment given to bullocks by Animal Rahat is necessitated by poor nutrition; dehydration caused by under-watering; ill-fitting yokes that leave wounds and lead to cancer and infection; and back, hump, and neck stress resulting from incorrect loading of the bullock carts, overwork, and improper driving of the carts. Many bullocks are depressed, suffering from poor appetite, diarrhea, and exhaustion. The same is true of the many donkeys who are left by the roadside if they become injured or ill.
Animal Rahat's guidance and support of these animals has already reduced practices such as leaving bullocks out in extreme heat or unprotected through rainy seasons. As a result, there are fewer incidences of heat stress, cough, and pneumonia among working animals in the region. The organization has also designed a portable shade screen that can be attached to individual carts and used by owners as shelter against the heat while animals await loading or unloading. The screens can also be used as a blanket for animals during the winter.
Retirement Subsidies
One of Rahat's other achievements is the development of a retirement plan. Owners who have bullocks past their working age are asked not to send them to the butcher's knife but instead to allow them, using a small subsidy, to retire and live out their lives with their human families. Bullocks like Raja and Mahadev are now leading a peaceful retired life ever since their owners decided that they could not bear to see their bulls end up as jackets or shoes.
The retired bullocks serve as models for respectful relations between humans and animals, just as the overloaded bullock carts represent the cruel practices that Animal Rahat hopes to make a thing of the past.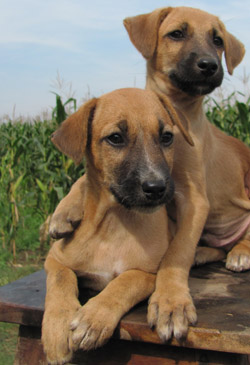 We also take in many donkeys like Bondy and quite a few dogs like Nancy and Paul. These are all animals who have run into serious trouble and needed to be rescued. When nursed back to health, they are sent to the Nilgiri Hills, where there is cool air, green grass, and shade trees. There, they can spend a wonderful life together, grazing in total peace and freedom and enjoying excellent veterinary care and lots of love.
Other Work for Animals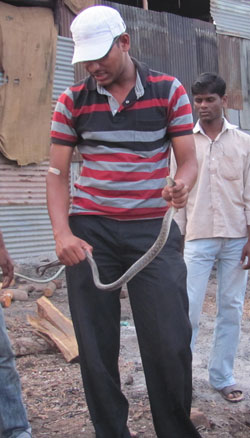 Although we concentrate on working animals, Animal Rahat is constantly responding to calls for veterinary assistance with other animals in danger—from peacocks to snakes to tortoises to hyenas—and we never say "no." Thanks to Animal Rahat's wonderful staff, animals have been rescued from falls into a well, from entanglement in wire, and from angry villagers intent on killing them.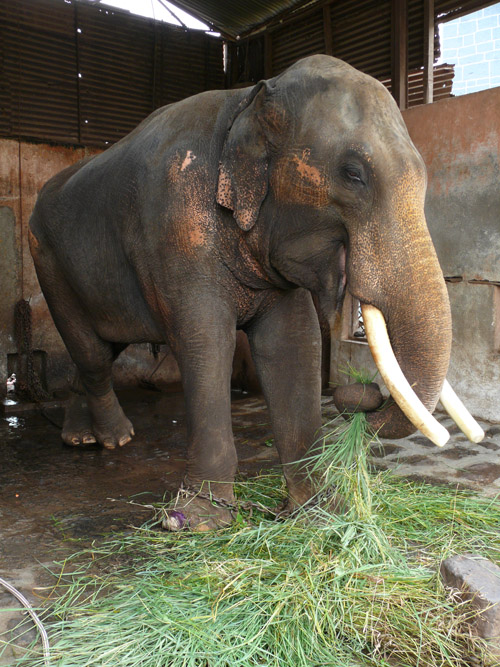 This is Ram Prasad, one of the elephants our veterinarians saved from massive abscesses and a painful foot condition. We also treat camels, and of course, people bring us cats and dogs who are in need of help and a home.
2014 Annual Review
For more information on what Animal Rahat did for animals in 2014, please see our 2014 Annual Review.