The annual Bail Pola holiday—a day when bullocks are supposed to be paid respect—is often the epitome of irony. Celebrated in rural communities, the festival is intended to be a time for owners to show their appreciation for the bullocks on whom their livelihood depends, but the bullocks would be surprised if they knew that.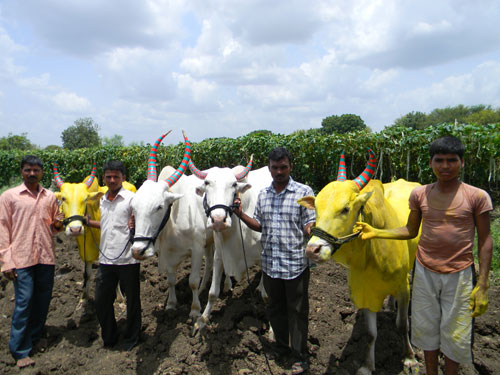 Traditions include decorating the bullocks with colored powder, painting their horns, and parading them through the village. But often the powders and paints are toxic and can cause serious harm, including horn cancer. The festivals also attract professional horn raspers—men who are paid to shave down bullocks' horns with knives in order to make the animals appear younger and thus fetch a better price if sold. However, the process exposes nerve endings in the horn and can be very painful.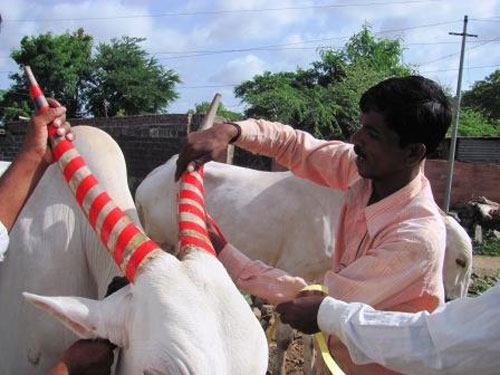 Animal Rahat used this year's Bail Pola celebration to discourage horn-rasping and promote safer adornments. Everyone who promised not to have their bullocks' horns rasped was given free materials from Animal Rahat such as nontoxic powder that doesn't irritate bullocks' skin and brightly colored tape to be used instead of paint to decorate bullocks' horns. (The tape is also reflective, which increases the bullocks' visibility on the dark roads at night and helps prevent collisions with vehicles.)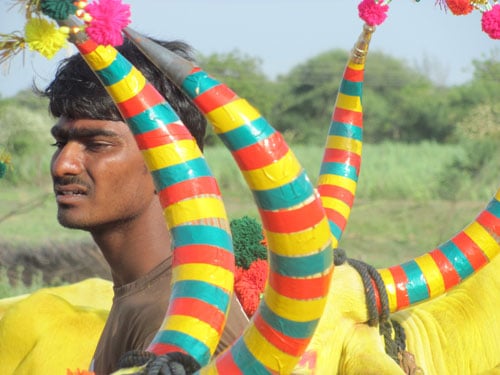 It worked! Not only did hundreds of owners take the pledge not to rasp their bullocks' horns, the village of Taradgaon also banned horn-rasping entirely! In addition, several newspapers covered Animal Rahat's activities during Bail Pola, which allowed tens of thousands of readers to learn about the harm that these practices cause.