This year, for the first time, Animal Rahat offered its services at the annual Sangola fair, a celebration of the Hindu goddess Ambika Devi at her temple in Solapur. Every year, up to 30,000 bullocks are transported by truck or on foot from all over Maharashtra to the market there. They arrive distressed, exhausted, and sometimes sick. The lack of necessary shelter, basic veterinary care, and enforcement of animal-protection laws in years past has prompted Animal Rahat's participation.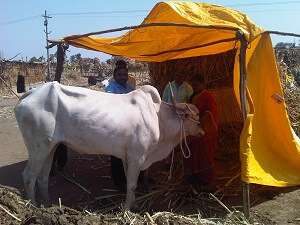 The organization arranged adequate water supplies and, most importantly, secured the use of the temple's ramps so that animals could be loaded and unloaded safely. Loading animals without ramps accounts for the majority of injuries at markets, including broken hips. Animal Rahat greatly reduced the suffering of thousands of animals by monitoring the loading area.
Staff members also intensely scouted the area for animals in trouble, including at night, and provided sick animals with free veterinary services. The veterinary team treated 156 animals for various medical conditions, provided malnourished animals with hay and concentrated feed, and held meetings with bullock owners to instruct them about proper animal care. Of course, Animal Rahat staff members immediately intervened and stopped any abuse that they witnessed and also confiscated all illegal torture devices.
They also erected educational banners throughout the grounds and made loudspeaker announcements that discouraged cruel practices, such as forcing diseased or injured animals to work, beating animals with whips, using spiked bits, cutting open buffalo's ears in a cruel and misguided attempt to treat illness, and painfully shaving off layers of horn to make bullocks appear younger and healthier. A local drama group helped spread awareness by acting out animal welfare–themed scenes in six shows held throughout the fair.
More than 1,200 people visited Animal Rahat's poster gallery, which urged owners to give bullocks proper rest and nutrition and to hitch only equal-sized animals to carts. The chair of the Market Committee and representatives of the Legislative Assembly unveiled the gallery, which drew attention from local media.
Your support funds vital programs such as this one that relieve animal suffering. You can get more involved by donating and subscribing to our free e-newsletter.