Donkeys are intelligent, gentle beings who deserve our respect—they don't deserve to spend their lives performing backbreaking labor for humans. Animal Rahat works hard to relieve and retire donkeys, helping desperately poor brick kiln operators mechanize so that they never have to use donkeys again and providing rescued and retired donkeys with a peaceful place to spend the rest of their days.
Learn more about all that Animal Rahat is doing to help donkeys in the updates below.
---
Meet the New Sultan of Sangli
Update: February 25, 2023
The misery of an infected wound teeming with maggots left this tiny foal so miserable that he collapsed by the side of a busy highway, perhaps hoping someone would stop and come to his rescue.
As it was much too dangerous to tend to him alongside the highway, the team stopped traffic to make way for the ambulance after veterinarian Dr. Amit determined that the foal was too weak to make the journey on foot to the nearest field office. He scooped up the little fellow and whisked him off to a temporary shelter where his wound could be dealt with. After a week of giving him round-the-clock care and sweet treats to help him recover from his traumatic ordeal, the team welcomed him to the Sangli sanctuary and named him Sultan. Before long, this sweetheart was sprinting around the sanctuary with his newfound friends. Welcome, Sultan!
Donate now to help Animal Rahat reach and offer a lifetime of support to sweethearts like Sultan.
---
Relief for Donkeys in Hot Spots
Donkeys, who are severely overworked in brick kilns, make up a substantial number of Animal Rahat's patients. Last month, the group vaccinated 181 donkeys against tetanus and 109 against rabies, but that's just the beginning.
For example, this donkey had stepped on a discarded sandal, which had become stuck on his leg. If Animal Rahat hadn't caught him and removed it—while throwing in a complimentary hoof cleaning—there's no telling how long it might have remained there, chafing his limb.
The Animal Rahat team came to the rescue of another donkey, who had a piece of PVC pipe stuck in his ankle—something that might have caused serious injury had it not been removed.
---
Playful, Smart, and Social: The Hidden Life of Donkeys
In their natural environment—not staggering along dusty roads while carrying heavy loads of bricks—donkeys are playful, gentle animals who form faithful bonds and express an eagerness to learn. Exceptionally intelligent, they have phenomenal memories (and can recall complex routes and recognize animals they haven't seen for years) and also have a logical, flexible approach to problem-solving.
People who know donkeys report that they are smart, personable, and affectionate. They understand dozens of voice commands, come running when they are called, and are fiercely loyal to those they trust.
As social animals, donkeys enjoy company and develop strong emotional bonds with other animals. Donkeys often pick a best friend, with whom they spend most of their time, and pairs are frequently observed grooming one another by softly scratching and nibbling their partner's neck and shoulders. When separated from their companions, donkeys become noticeably anxious and distressed, often vocalizing, pacing, and even falling into a depression.
Donkey Talk
Donkeys communicate by using a wide range of body language and vocalizations. Upon greeting, donkeys will often blow gently into one another's nose, which imparts important information. Donkeys carefully move and position their heads, necks, bodies, and tails in order to give clues as to their moods.
In a desert environment, donkeys must often spread out to find food. With their loud brays and keen sense of hearing, donkeys are able to communicate from miles away.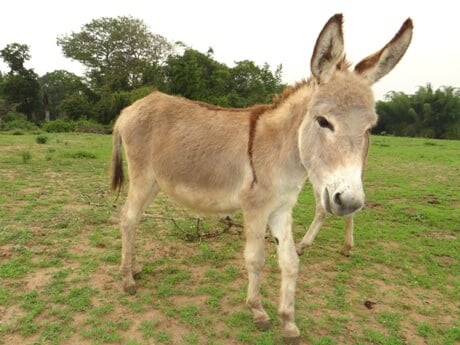 Debunking the 'Stubborn' Myth
Compared to horses, donkeys show a limited response to fear, pain, and illness. These stoic animals rarely panic and may even appear catatonic when in distress. When faced with a potential threat, donkeys prefer to plant their feet while they analyze the situation. All too often, donkeys are misdiagnosed as "stubborn," when they are likely just experiencing fear.
Exceptionally strong animals, donkeys are often forced to transport heavy loads of sand, bricks, and stone. These gentle animals are often left to suffer from dehydration, malnutrition, and untreated ailments. The Animal Rahat program was created to make a difference in the lives of working bullocks, donkeys, ponies, and horses. Please make a donation to this lifesaving program today.
---
A Scenic Retirement for Rescued Donkeys
One of the most frequent tasks that Animal Rahat staff members have is removing ropes and other tethering devices from all manner of animals. For example, they often stop to untether donkeys (like the one below) whose owners have hobbled them by tying a front leg to a rear one, often causing injuries, sores, and wounds that become maggot-ridden.
For the fortunate donkeys rescued by Animal Rahat, however, life couldn't be more different. They live out their days at its sister sanctuary in the Nilgiri Hills, pictured below.
These donkeys went from being loaded down every day with stacks of bricks on their backs in a kiln operation to frolicking the days away on a cool, green hillside—thanks to Animal Rahat's wonderful supporters, who made their rescue and retirement possible.
---
---
Want to read more about Animal Rahat's work with donkeys? Here are some additional blog posts that you can check out:
---
---