Through the generosity of our wonderful supporters, the amount of relief given by Animal Rahat this past month was immense.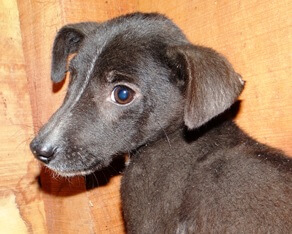 Among the many animals rescued was the puppy above, who is now named Babloo. He was hiding in a bush alongside a highway when an Animal Rahat scout spotted him. We learned from villagers that his mother had died, so he was taken to the Animal Rahat Home for Retired Bullocks, where he now has plenty to eat and is clean and free of fleas and mites for the first time in his life.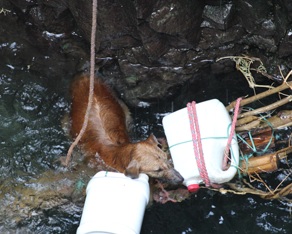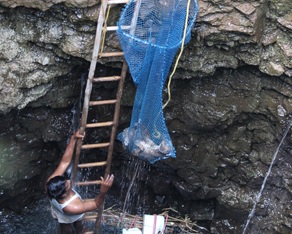 What looks like debris in the photos above is actually a makeshift raft that a farmer had thrown down this well after he saw that a dog had fallen in and was desperately trying to stay afloat. Animal Rahat immediately dispatched a team equipped with a net and ropes.
The rescue team pulled the scared dog to safety, dried him off, wrapped him in a blanket, and kept him in the sun until his shivering stopped. As soon as he had recovered and had a good meal, the team made sure he was uninjured before releasing him to return to his village.
Please consider making a gift to Animal Rahat today to help increase our ability to offer crucially needed assistance and veterinary care to India's animals. Thank you!